Christian Canovi
My name is Christian Canovi and I am the creator of Popo and his fantasy world. I am an illustrator, cartoonist and animator 2D, and together with Maurizio Roggerone, I founded the Moai Studio in Genoa, Italy. Among the various works carried out over the years, are the illustrated book series "Vipo adventures of the flying dog", various series of books for the schools, the educational animated series "The adventures of Filippo and Bricciola" and different character designs for TV series and toys.
Together with the writer Chiara Patarino, Luigi Grosso and Maurizio Roggerone, I created the brand "Omero, the bone of mystery" and was the illustrator of the book "Omero, the bone of mystery and the ear radio secret!".
Few years ago I began to think of an endearing character, funny and cute, able to interact, on several levels, with the world in which he lives. This idea took slowly shape on the drawing paper and materialized into Popo and his friends!
Giulia Dacchille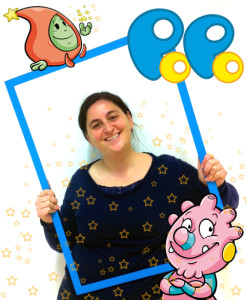 I am Giulia Dacchille and for 15 years I have  worked at "La città dei bambini e dei ragazzi" in Genoa, where I deal with museum education for children from 24 months to 12 years, by designing, building and leading scientific workshops. For about a year I have cooperated with the Genoese Association "Zerocento", designing and animating readings and creative workshops for preschoolers.
Some time ago my friend Christian Canovi told me about his project to create a character from a fantastic world devoted to little children. That revealed to be the world of Popo, for a long time already existing in Christian Canovi' mind but needing the right adventure for finally coming out. So, writing the adventures of Popo was the occasion for me to combine the  interest I have for the childhood world and my passion for reading and writing.